next-generation video conferences
Virtual Meetings That Matter
Immersive, cutting-edge virtual meeting software for leaders. Experience the future, today.
First-Of-Its-Kind Virtual Meetings Platform
Don't just be another call on the calendar. Meetings that are important should look and feel important.
Jugo is a powerhouse virtual meetings platform for leaders. Present like a pro in your personalized studio, stand out from the crowd, captivate your audience, and command the room.
The Ultimate Virtual Meetings Experience
3D video conferencing accessible over the web. Joining an online meeting shouldn't feel like rocket science.
Role Flexibility
Effortlessly swap roles from host to speaker to audience member. Pull people up onto a virtual stage. Boost engagement, collaboration, and participation like never before.
Personalization
Customize your studio with your own branding. You always play better at home. Differentiate from your competitors. Your office, your way.
Simple and Scalable
Create online meetings in seconds. It's the fast lane for sales execs, CEOs, and everyone in between. Scale up without slowing down, there's room for everyone.
Think Big. Virtual Meetings Are Just the Beginning.
Check out how Jugo Meetings will change the way you meet online. See how it captivates your audience, keeps cameras on, and creates memorable moments.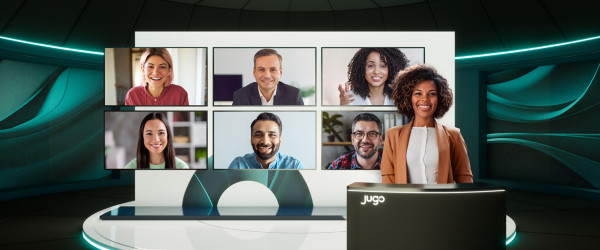 Client and Leadership Meetings
For virtual meetings that matter. Reinvent client and boardroom meetings with an immersive platform to encourage engaging discussions in a secure platform.
Digital Meetings and Virtual Town Halls
Connect with your colleagues like never before. Rework your team calls into immersive virtual experiences and bridge the gap between you and your hybrid teams.
Earnings Video Calls
Share your results in style. Elevate the experience for investors, media, analysts and management. Celebrate wins and maximize engagement.
Digital Onboarding
Welcome employees to the team. Help your remote starters feel truly connected with customizable company environments. Increase engagement, inclusion and connection.
Get Started Today
Find the right plan for your business. Contact our sales team for more information.