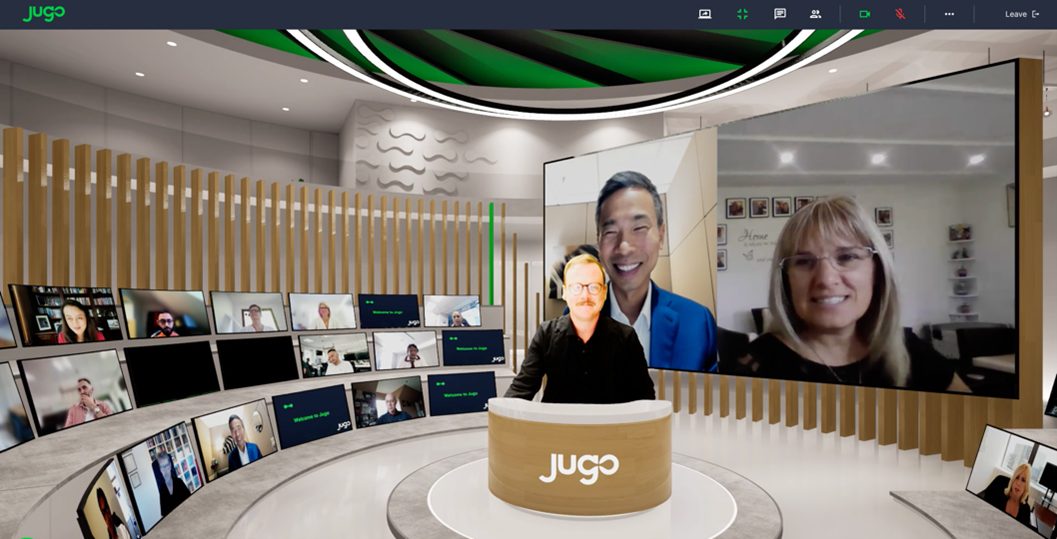 Unlocking Engagement: The HR Hope for Hybrid
Jugo kicked off its first of eight immersive virtual events for senior HR leaders and innovators about the future of hybrid working and building an environment for elevated collaboration and engagement. We built Jugo for these moments.
Our host Nick Pryke seen on stage is actually sitting at his desk at Jugo's HQ in the UK. Our guest speakers were logged in from Silicon Valley, New York, and even from Atlanta's Hartsfield Airport. Technology connected us; but Jugo's immersive 3D technology made us feel like we're together. We've designed Jugo to be the next generation of virtual engagement experiences; a complete solution for internal and external meetings & events.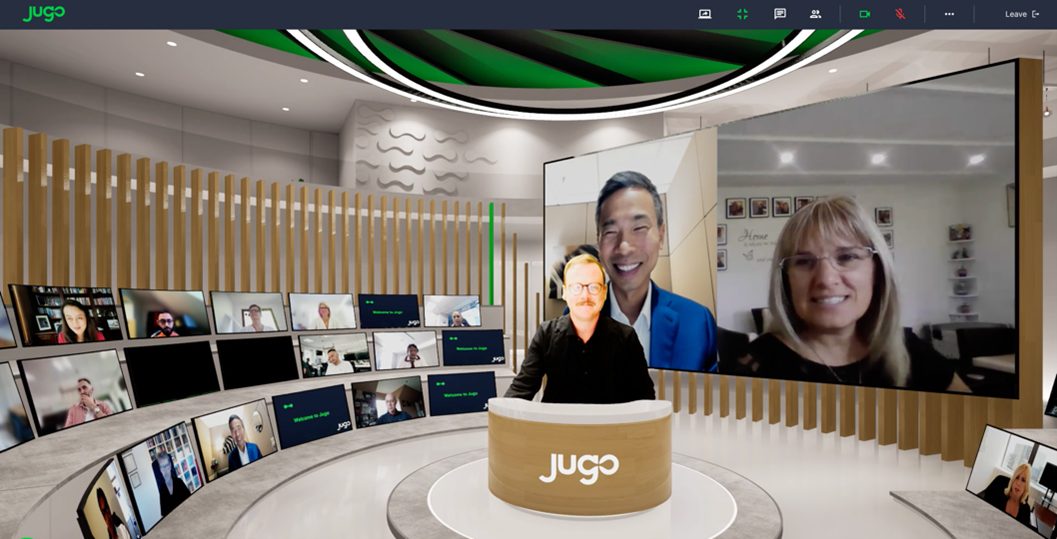 We started off the event with a live poll to get a feel for the room but also give the speakers real-time audience insight to drive meaningful discussion. Throughout the event the audience and speakers were able to engage through emojis, chat with each other, comment, and ask guest speakers their questions live on stage. Jugo brings the human connection to virtual events so we can engage, learn, and feel like we are together—wherever we are.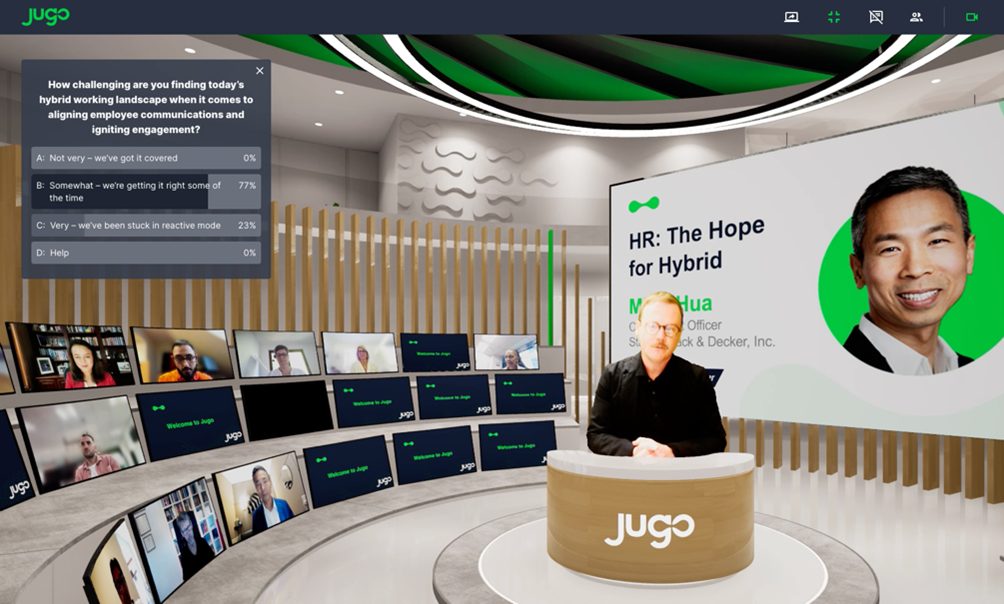 Our debut audience of HR executives came for a high-level discussion with industry leaders about turning the tide of disconnected workforces. We were thrilled that Stanley Black and Decker's Chief Talent Officer Minh Hua was able to join us as our keynote speaker to launch the important discussion.
Here's what Minh had to say about:
Future of work: "I think the future work is about more high performing teams delivering on business outcomes. Then we will see more people feel like they belong. That's it. high performing teams delivering on business outcomes, and people feeling like they belong."
Onboarding: "It's an opportunity to invest bring people physically together and use technology to keep them connected."
Measuring onboarding success: "I think the best success metric is measuring energy. This will be a derivative of satisfaction, and then measuring retention within 12 months."
Best Practices: "Pre produced training time doesn't work as well. That's when leaders need to create learning intersections such as apprenticeships, mentoring, coaching, learning by osmosis, okay, when someone's joining a new company, bring them together in person. When you're training on pretty standard routine things that can be done online, when it's complex, create those moments that matter."
Perspective: "It wasn't that great before the pandemic here's an opportunity let's not shoot to replicate 2019. Let's aim to do better for all humans in our company.
Our fantastic panel featuring DailyPay's Chief Innovation & Marketing Officer, Jeanniey Walden; Dr. Elizabeth Xu, Group CTO & Advisor at Charoen Pokphand Group; and our very own Chief Customer Officer at Jugo, Stephen Gee continued the engaging and timely dialogue about turning the tide of a disconnected workforce.
Want to join us for our next immersive event? Fusing the Gap: Aligning Sales & Marketing to land the message that counts. Register today.
Back to resources
Request a demo
Take the first step on your journey to creating and delivering truly immersive events.