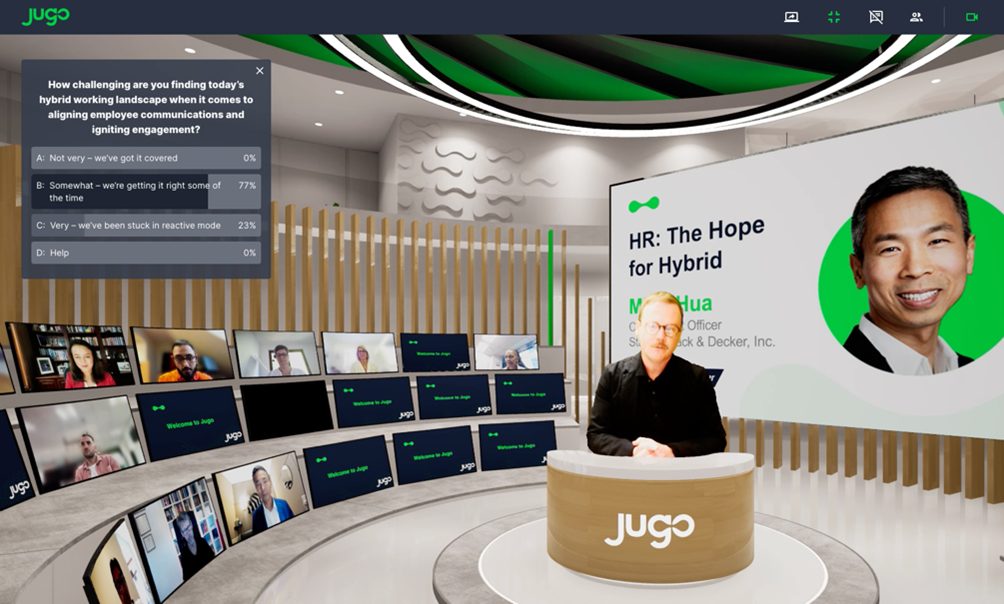 Social Constructivist Learning Techniques to Boost Engagement
How social constructivist learning theory can foster collaborative learning, participation, and increase engagement for hybrid and remote organizations.
Teachers have always been leaders and innovators in engagement, communication, and connection. From elementary school teachers to college educators, a normal day revolves around engaging students, making sure information is retained, grappling with short attention spans, distractions, and interruptions. Then the world went remote. And teachers were faced with another challenge— recreating the classroom in a virtual world.
Meetings and events are a lot like classrooms. There will always be people who raise their hand to contribute, and those who slink in the back row and avoid eye contact.
Remote and hybrid environments are challenging, but should be looked at as an opportunity to create an equitable environment where everyone can feel included and comfortable to participate.
Think-Pair-Share with Jugo
Think-pair-share is a teaching technique and collaborative learning strategy to get students to work together, answer questions, and solve problems. It starts with giving students the chance to think and respond to questions in written form, pair up with a partner to discuss, then share with the larger group.
Jugo's immersive 3D virtual room, with its multi-way engagement and real-time audience insight supports natural engagement, human connection, and collaborative learning. It's the perfect platform to utilize the Think-Pair-Share technique to boost engagement and promote thoughtful discussion like a classroom, but in your next virtual meeting or event.
Designate a Chat leader
The chat leader should have questions and prompts that supplement the speaker's discussion. The chat leader is effectively one half of the 'pair strategy'. Don't be afraid to @ a colleague, attendee, or student to prompt the person to engage.
Example 1: Chat Leader: I like what the keynote is saying about bringing donuts to work. What do you think @janedoe; are you going to bring donuts in tomorrow?
Example 2: Chat leader: These were some great points. Has anyone tried these strategies?
Simultaneous engagement
While the chat leader is soliciting responses and promoting discussion in a written form, the person speaking and leading the meeting or event can elevate parts of the chat discussion to the larger audience.
Example Host 1: I love this point Jane Doe just made in the chat discussion…
Example Host 2: It's ok that not everyone is on board with the strategy… so let's discuss some of the concerns in the chat. John made a note that we need more resources for the project.
Private Chat/Direct Messaging:
Force one-to-one engagement and connection. If you've been paired up with a stranger or someone you don't know well in class or conference – it's, well, uncomfortable. There's an element of apprehension but there's also an expectation from both people that you will engage. You can create that same expectation of engagement in a virtual meeting in a more comfortable environment—private chat and direct messaging.
Assign partners for your virtual event
Send an email prior to the event with brief introductions and the name of the person they will be 'meeting'
Begin your virtual event with five minutes designated for private chat for partners
Lead the conversation as host with ice-breaker prompts, and suggestions for the private conversation
– Tell each other where you're from
– What you hope to learn at today's event
– Are you the kind of person who keeps the camera on or off during meetings?
Incorporating the Think-Pair-Share strategy into your Jugo event can help build human connection between your attendees. In turn, it encourages engagement, discussion, and collaborative learning.
Do you want to step out of the virtual meeting boxes and make your meetings feel in-person? Boost engagement, productivity, and feel like a team again. Demo Jugo today.
Back to resources
Request a demo
Take the first step on your journey to creating and delivering truly immersive events.